BOOKING ONLINE
Cerca le offerte migliori

CONTATTO DIRETTO CON LA STRUTTURA
Risparmia tempo e denaro!
Filter results:
FARM HOLIDAYS CAORLE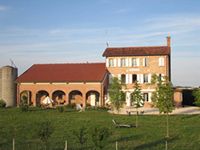 Other
We suggest for your holidays our spacious apartments, beautifully furnished & decorated located in a fully restored ancient charming farm house at only 1 km distance from the center of Caorle and fr... [
Continue
]
clicca per vedere la posizione sulla mappa
Farm Holidays Caorle
For lovers of holiday immersed in the green in close contact with nature, Caorle is the ideal solution which combines sea and nature, in the immediate vicinity of the city because you can find charming cottages, some with swimming pool, offering its guests comfortable rooms and spacious apartments with breathtaking views over the surrounding countryside.
The type of treatment proposed in the farms of the area is of type B & B (bed and breakfast) or you can choose a room type apartment.
The staff that manages the farm Caorle will give you the best information to make fascinating excursions on foot or mountain bike to explore the surrounding countryside and the fascinating landscape of the Venetian lagoon.