Filter results:
APARTMENT CAORLE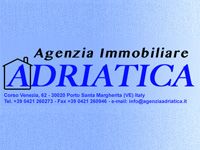 Immobiliare Adriatica
Porto Santa Margherita
At our agency you can find the ideal home for your holidays in Porto Santa Margherita, villas and apartments surrounded by greenery, with swimming pool and tennis courts, all close to the beach and sa... [
Continue
]
clicca per vedere la posizione sulla mappa

Agenzia Astro
Porto Santa Margherita
With more than forty years of experience the agency Astro has specialized in treating only the littoral caorlotto, so knowing all of the economic and social issues. A specialization of the area which ... [
Continue
]
clicca per vedere la posizione sulla mappa
Real Estate Agencies Caorle: Find apartments for rent
On this page you can find a list of apartments Caorle, situated in or near the seafront in the center of the city in the immediate vicinity of the main services: bakery, mini markets, restaurants, pizzerias, etc..
The holiday apartment is suitable for those who want freedom of schedules, you can enjoy time on the beach until sunset while sipping a drink in one of these kiosks on the beach.
For summer rental of apartments in Caorle you can contact the various tourism agencies in the portal, will be able to offer the best solutions for your specific needs.
The proposals offered by agencies typically range from: residence with swimming pool, detached houses with gardens, bungalows, townhouses, beachfront apartment complexes, apartment.