The Cathedral - inside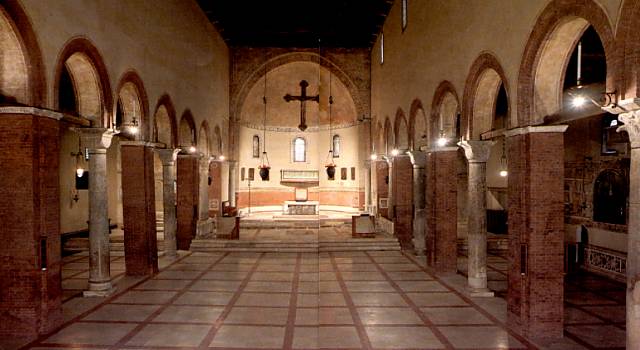 It has entered into the fascinating vision of the whole, harmonious, distribution of the three aisles, where the main, almost double of each side is divided by the number of columns and pillars, which support ten arches on the run rhythm to the raised presbytery and the apse and the altar.
Above, the ceiling shows the typical basilica with rafters discoveries of marble shelves. The left wall appears uniform without any dialog, unlike the right, in which there are seven windows in oblong form. Three other instead arise in the apse of the fund. In practice here, cone at Torcello, as in S. James dall'Orio, S. John the Beheaded in Venice and other cases, the light enters from the south in full and in part from the apse, as well as from the entrance wall.
To explain the inconsistent system, since the Roman basilicas of Ravenna and Aquileia and Grado those bearing the windows on both sides, several hypotheses have been proposed in principle reducible to the defense needs of the cold north winds or summer storms, or in an allegorical meaning in a contrast between the darkness of the north and the light of noon.
The solutions are possible, although we should not exclude intervened aesthetic factors, namely the need to create a compartment in which the light is diffused and penombrata measured, according to the taste of the churches bizzantine, in the game crossed by the three light sources : from the southern part, the midday light and sea, from the eastern apse, while the morning light dall'occidentale input, sunset. We do not exclude that a symbolic meaning, if you remember how much of it is rich in architecture and oriental arts. The number seven, which also reappears in the seven arches of the central apse, is mystical number of clear biblical ancestry, or expression of the seven virtues (three theological and four moral) or the seven gifts of the Holy Spirit. Moving the other way, if we add the three windows of the apse, we have the number ten, which emerges more clearly in the ten arches on each side of the nave, of course reminiscent of the ten commandments of the Mosaic law and divine.

More info - The cathedral outside

More info - The cathedral inside

More info - The cathedral nave right

More info - The cathedral nave left

More info - Cathedral the presbytery